I'm talking salary-wise. When I graduated college, I have already been working for years so I know that my skills and experience combined is worth more than just having a minimum salary. I'm not arrogant and I know that as a fresh grad, I have to start at the bottom but I know how to fight for my value and negotiate my salary. My savings is 70% salary and 30% from other businesses so salary is really important if you want to save. Whether you are an employee/freelancer/business person, you have to ask for what you deserve. Charge higher when you know you are selling a product that has a higher quality than your competitors. This ain't a charity, honey and aside from hustling, you have to think!
When I was in college, I would always bring packed food because my father's cooking is the best and I love how much I could save. I remember my first week on my first job, my colleagues already started a month before me because I was busy with my thesis thus, I joined them a month after. I had no friends but I still eat with them in the pantry and would devour on my baon. My baon that day was bangus with tomatoes and I can still vividly remember how my colleague looked at my food with disgust while she's eating her Shakey's takeout LOL. It was funny and even after that, I would still bring my okra and bagoong packed lunch. HAHAHA she's a friend now and we already talked about this incident. So yep, bring packed lunch and just microwave it. It's cleaner, cheaper, and it's made with love!
Learn how to love commuting
I love commuting! I swear! Having a car is probably the second last thing on my mind (first one is having a kid) and it's because I love to commute! MRT, LRT, jeeps, FX, name it! I love it! I'm weird, right? Fun fact: I only tried riding a cab myself around 5x my whole life. I just don't get the point! It's like 5x more expensive than jeep and most of the time, you can get there faster using public transpo. Yes, it's icky and people don't smell good but suck it in because you will save  a lot when you stop hailing cab everyday just to go 5 blocks down the street.
…but not that hardcore cheapskate you see on TV where they reuse toilet paper (gross but there's really an Extreme Cheapskate episode about that!). Be a cheapskate that you don't treat "friends" just for them to like you or you don't really need to volunteer paying someone else's fare when you see them in the same jeepney as you. People know me as a cheapskate and #noshame because they know that I value money. When someone owes me PHP 305.50 gurl better be sure you give me that 5.50 or I'll put you on my kill list like Arya. LOL. I know there are also some guys who read my blog and if you are courting a girl, stop buying her dinner every single time. It's not needed! Can't she freaking pay her own bill? You could save thousands by splitting the bill, my boy.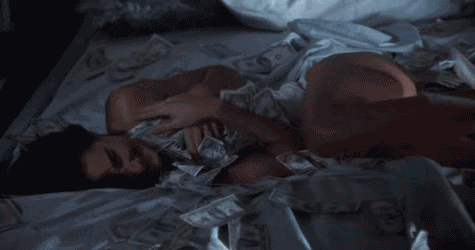 Many people will say that love of money will always be a bad thing. I love money and I am not ashamed. Money is not the root of all evil but it's with your bad motives and bad spending habit that's really the root of all evil in this world. I have lost a lot of friends because of money and it's for the better. I lend money to help them but when it's time to pay, suddenly, I'm the bad guy. Money will make you happy, trust me. It will not be the be-all and end-all of things but it certainly can make your life better. If you know the value of every single cent you earn, you will be wiser in spending it and you will also learn how to value every drop of sweat it took to earn that amount. Never be ashamed that money is a big deal to you because it is to everyone and it makes the world go round.
Happy saving and wishing you the best on your travels!